BAC - Cutting Blade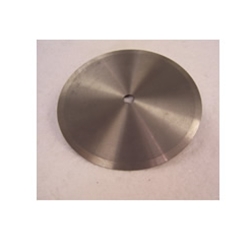 BAC - CUTTING BLADE
• Easily Cuts Echo Eliminator Panels
• Fits Standard Table Saw
• Fits some Skill Saws
• Provides near factory edge
Bonded Acoustical Cotton Blade ( Echo Eliminator™ )
For field cutting of Echo Eliminator™ (BAC) Panels
8" Round or 10" Round - Steel Toothless Blade options
MATERIAL:
Steel
FEATURES:
Easily cuts Echo Eliminator Panels for a factory looking edge.
APPLICATIONS:
This blade allows for easy straight line cuts – not intended to cut curved lines. The BAC Blade is the easiest way that we have found to field cut Echo Eliminator panels.
DIAMETER OF BLADE: 8" Round or 10" Round - 5/8" Arbor
INSTALLATION:
See manufacturer's instructions for your particular power tool.